How to Measure
MEASURING TIPS
We know that measuring for and ordering custom draperies can seem a little daunting. At 'Design Your Own Draperies' we have a customer service team ready to help you with all of your design and measuring needs. We are happy to make ourselves available by phone or e-mail to answer all your questions right in the comfort of your home. Below we have provided basic measuring tips but can help you through the process. Because every window is different, our custom sizes offer you the ability to cover your window perfectly.
Rods
Determining Rod Placement
It all starts with your rods and you will first need to decide where your rods will be placed: inside your window, on the window trim or extended beyond the trim or window opening. It is a matter of personal preference for most window treatments. Some consideration must be given to your rod extensions and placement if you decide to hang drapery panels and want them to fully clear your window opening. Decide where you're going to put the brackets, then measure the width of the area between the brackets. See below for our measuring tips for all drapery and valance styles.
Many of our "Simple Valances" are rod pocket valances and are mounted on either a 2 ½ "flat rod, a 1" single or a 1" double rod. If valance is being mounted over drapery panels, the outside valance rod must clear inside rod and a wider projection must be used - a 5 1/2" projection.
Rods have varying rod projections: 2 ½ ", 3 ½ "or 5 ½" (the rod projection is the number of inches rod projects from the wall). Depending on which projection you need, you will round this measurement up to 3", 4" or 6" when adding on to your width. See instructions below for determining drapery and valance widths.
Rods are typically mounted 2" to 5" above window frame. For maximum protection from light, when mounting drapery panels take rod above window frame the full 5". This will also prevent light from shining through your drapery panel 'header' or top hem – a custom tip.
Rods are typically mounted 1" to 4" beyond widow frame width (your rod extension). Take into consideration that you may need wider extensions if you desire fully clearing your drape off the window. See formula below under drapery panels for "stack-back".
Valances
Rod Pocket Valances
Rod Placement: Simple valances without drapery panels or a shade behind them can be hung on your window trim or just an inch or 2 to either side of your window opening. No need to hang it above the window by much either unless you want your window to appear taller or don't want the valance length falling too deep into your window.
Rod Projection: If a shade or panel will be hung under your valance, you must make an allowance to ensure the top treatment clears the under treatment. Rods come with varying projections (the number of inches the rod projects from the wall). Depending on your under treatment, you will need to decide on your rod projection so that it clears what is behind it. If there is no under treatment, use the standard rod projection of 3". Your rod projection will affect the size of your drapery and/or valance as you will need fabric to return on the rod to the wall.
Rod Face Width: The width of the rod from end bracket to end bracket.
Rod Size: Depending on the style, our valances are hung either on a 2 ½" rod, a 1" standard or 1" standard double rod. We specify the size rod necessary for each product in the description.
Determining Valance Width: When calculating width for your rod pocket valance, you will need to add your projections into your rod face width. If your face width is 60" and your projections are 3", you will need to add 6" to your face width of 60". This gives you your face width plus projections measurement. You would order a 66" width for your valance.
Gathered Valances: Some valance styles are gathered on the rod and others lie flat. For gathered styles, to determine your valance width, calculate your rod face width plus rod projections and multiply 1 ½ or 2 times width. For example, for a 'fuller' look multiply by 2, i.e. 66" x 2 = 132". You will need to order a valance that is 132" in width for your 60" rod. For a less gathered look you should opt for 1½ times the width. For example, multiply by 1.5 x 66" = 99". You will need to order a valance that is 99" in width for your 60" rod.
Flat Valances: For valances that lie flat on the rod, you will order the valance size the exact size of your face width plus projections. For example, if your face width plus projections totals 66", this is the size valance you will need. Product description will specify if valance should be gathered or lie flat.
Scarf Valance
Scarves are made as one long piece/panel and ends are tapered for a pretty cascaded look. To measure you will need the width of your window, add to that the length you would like the tails of the scarf to fall on both sides of the window. Add the width and the 2 lengths to come up with the size you should order.
Drapery Panels
Pleated Panels
Perfect Fit: We recommend that you work with us to determine proper sizing for pleated panels to ensure a perfect fit. Pleated panels must be exactly sized to your rod width and require professional expertise. The only information we will need from you is the size of your rod and your rod projection to ensure your drape fits your rod. We then add in your drape "overlap", or the amount of fabric needed to ensure your panels overlap each other in the center. This is to ensure privacy and light from entering your room.
Calculating "Stack-Back": If you are considering drapery panels that will be used for privacy to draw fully on and off the window, you will need to decide if yyou want your window view unobstructed when your drapes are drawn. If this is desired, you will need to calculate the number of inches your rod should extend beyond your window opening to allow 'stack-back' so that the drapes will clear your window. A quick formula you can use is to first measure the width of your window opening. Divide width by 3 and total by 2. For instance, if you have a window opening of 100", divide by 3 = 33.33 and divide by 2 = 16.66. Round up to 17" to get your rod extensions on either side of your window. Add the extensions to your window width for the face width of your rod = 134".
Determining # of Widths: Pleated draperies are ordered by number of 'widths'. Most decorative fabrics have a width of 54". A chart is used for ordering purposes to determine the number of widths required for all rod widths. When ordering, you will need to know your rod face width and rod projection to fabricate a perfect fit. To determine the number of drapery widths necessary for your rod width use the chart in the drapery product description and also shown below:
2 width pair - up to 36" rod - 5 pleats per panel
3 width pair - up to 62" rod - 8 pleats per panel
4 width pair - up to 86" rod - 11 pleats per panel
4 width panel - up to 93" rod - 22 pleats per panel
5 width pair - up to 110" rod - 14 pleats per panel
6 width pair - up to 136" rod - 16 pleats per panel
No Stack-Back: If you don't mind having your panels stack into the window when drawn, there is no need for wider extensions. Place your rod a few inches to either side of your window opening or trim. To determine how far your panels will stack into your window, use the formula above
Rod Projection: When ordering, we will ask you for your rod projection to ensure enough drape to follow the rod back to the wall (see diagram below).
Drapery Length: Drapery length is determined by measuring from the top of the rod to wherever your panel will hang, i.e. sill, window apron, or floor. For the best protection against light, take your rod at least 5" above your window opening. This also protects against the light shining through the "header" which is not optimal. If pudding is desired, you can add 12" – 18" to the length depending on how full you would like your puddle.
Rod Pocket Panels
Rod pocket panels are typically used on windows for decorative purposes only. You can pull the panels across the rod but not with ease. Rod pocket panels are more likely used as stationary panels and look pretty alone or under a valance. If used without a valance, we recommend using a decorative rod. The size of the rod will determine your rod pocket size.
Measuring for rod pocket panels is much easier than a pleated style because it does not require a perfect fit. Since the drape slips onto the rod using its pocket, you can ease the fabric across the rod so that is fuller or flatter. For average size window widths, you will only need a 2-width pair - 2 panels at 50" in width each for a total of 100". If you have a 50" width window, your panels will be gathered to about 2 times fullness. For larger windows, you may want to order 1 ½ widths or more. Please consult our customer service number if you have any questions about how many widths to order.
Length of rod pocket drapes is taken from the top of the rod to the point where you want your drapes to fall, i.e. window sill, window apron or to the floor. Be sure to deduct ½" if to the floor so that it does not drag on the floor. If pudding is desired, you can add 12" – 18" to the length depending on how full you would like your puddle.
You will need to specify whether you would like a 'header' or 'no header'. This is the ruffle at the top of the panel just above the rod pocket. Length is determined from the top of the rod pocket – not the top of the header.
Grommet and Flat Panels
Grommet panels are flat panels with grommets at the top. Similar to a shower curtain, this is a very simplistic treatment and has a contemporary look. Clips can be attached to a decorative rod or a rod can be threaded through the grommets. These panels should have 1 ½ - 2 times the width of your rod. Grommet panels do not return back to the wall so a rod projection is not necessary. To measure, take your rod face width and multiply by 1 ½ or 2 to get your total width. For example, a rod face width of 50", order a panel that is 75" – 100" in width.
Flat panels are similar in look to a grommet panel without the grommets. You can use drapery clips to attach to rod rings for a contemporary look. Measuring instructions are same as above.
Wood Blinds
Inside Mount
If an inside mount is desired, take inside width and length measurement in 3 different places as shown in the diagram below and use the smallest width and longest length.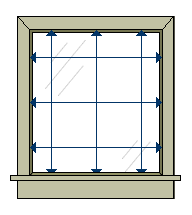 Outside Mount
For an outside mount, take the window width and height measurement (outside edge of trim to outside edge of trim) in 3 different places and use the widest and longest measurement. Add 3 inches to width and length to ensure privacy and light strike. Be sure there are no obstructions or walls since extra outside allowance is taken.